NEW FIELD INFORMATION
Our field is coming along FANTASTIC! Many have complimented the club on what we have accomplished over the past could of years. Each year our grass is getting better and we have events planned now. So, enjoy our new field. We are looking forward to a great many years of flying here!
Click here for pictures of our new field under construction
Click here to see some 2013 progress!
---
Directions To New Field
Longitude 92o 25' 16", Latitude 38o 55' 45"
From within Columbia, Missouri: Go to Chapel Hill Road and Scott Blvd. Go west on Chapel Hill Road 1.5 miles. You will go through the housing area, down the hill and across the bridge. The first road after the bridge is Hunt Road (which is blocked with a road closed). DO NOT TAKE HUNT ROAD! Look for Coats Lane (the next road), turn left. Go approximately .2 of a mile on Coats Lane. The first street on the left is Hunt Road. You might miss the road if you don't pay attention. About 1/4 mile you will see our MMRCA sign on the right. This will be our field. We have installed our own gate.
From I-70: Take Stadium exit south to Broadway, turn right. Follow Broadway west past WalMart and HyVee. Shortly the road will turn left (south) and change to Scott Blvd. Turn right at Chapel Hill Road and follow the the directions above.
From I-70 (Alternate Route): Take Midway exit (Exit 121), follow State Route UU south, approximate 3.3 miles to W Gillespie Bridge Road, turn Left. Follow W Gillespie Bridge Road for 2.2 miles and turn right onto Coats Road. Hint: Watch for "Flood Area Ahead" sign. Coats Road is right after the sign. Take first left onto Hunt Road. Field 1/4 mile on right.
WARNING: Scheduled construction in 2014 on Scott Blvd near Nifong Blvd could prevent people from using this route. Please use another! This is expected to be completed by the end of September 2014.
From South 63 (Jeff City and Beyond): Take Grindstone or AC Exit, turn left. Following Grindstone Blvd all the way to the end, approximately 5.8 miles, to Scott Blvd. Along the way Grindstone Blvd will turn into Nifong Blvd. At the end, turn right on Scott Blvd, go approximately 1.5 miles to Chapel Hill Road, then turn left on Chapel Hill. Follow the directions from the first paragraph.
Alternate Route From South 63 (Jeff City and Beyond): From Hwy 63, take Stadium Blvd exit, turn Left and follow Stadium through the MU Campus until Forum Blvd. Left on Forum Blvd, go 2 lights, turn right on Chapel Hill Road. Cross Scott Blvd and follow instructions above (1st set of instructions above).
Please review the MMRCA Flight Guidelines
Area Map To The Field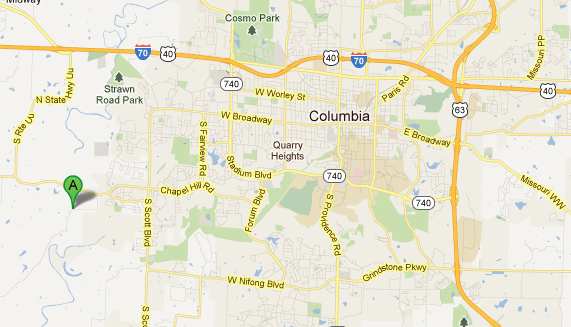 ---
Local Map to the Field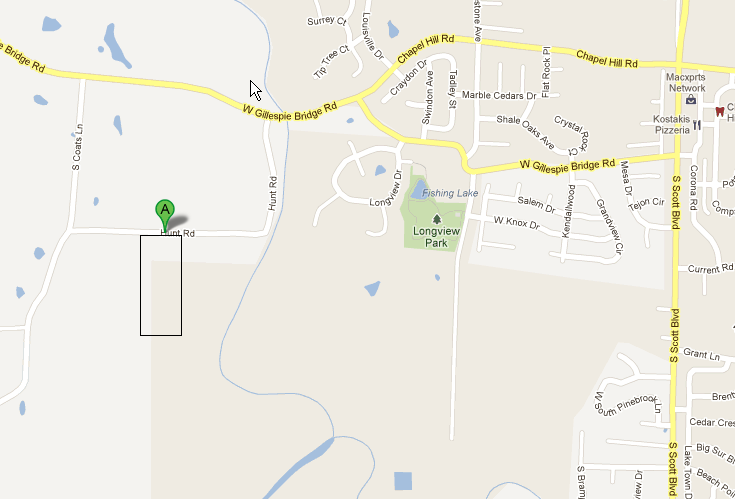 ---
Pictures of the Field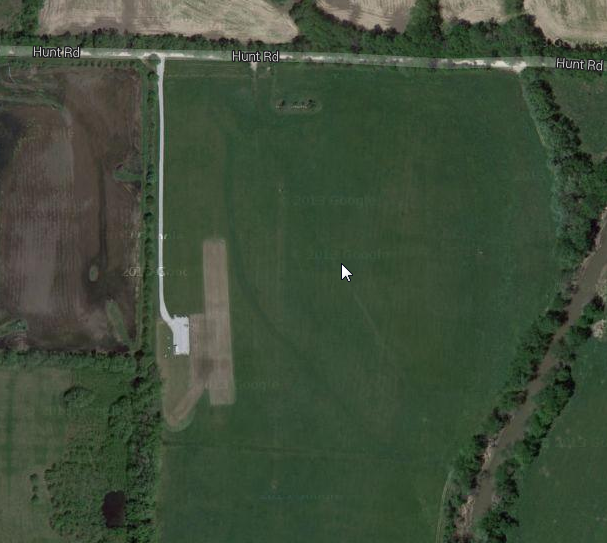 Proposed Field Design

This is a proposed plan of the field presented to MMRCA at the May 2012 General Membership Meeting. The field will be setup based on the ideas presented here. Locations of the runways and other items may be moved based on existing field conditions (drainage ditches, etc.) but ultimately the field should look similar to this.
---
Last modified on 03/16/16